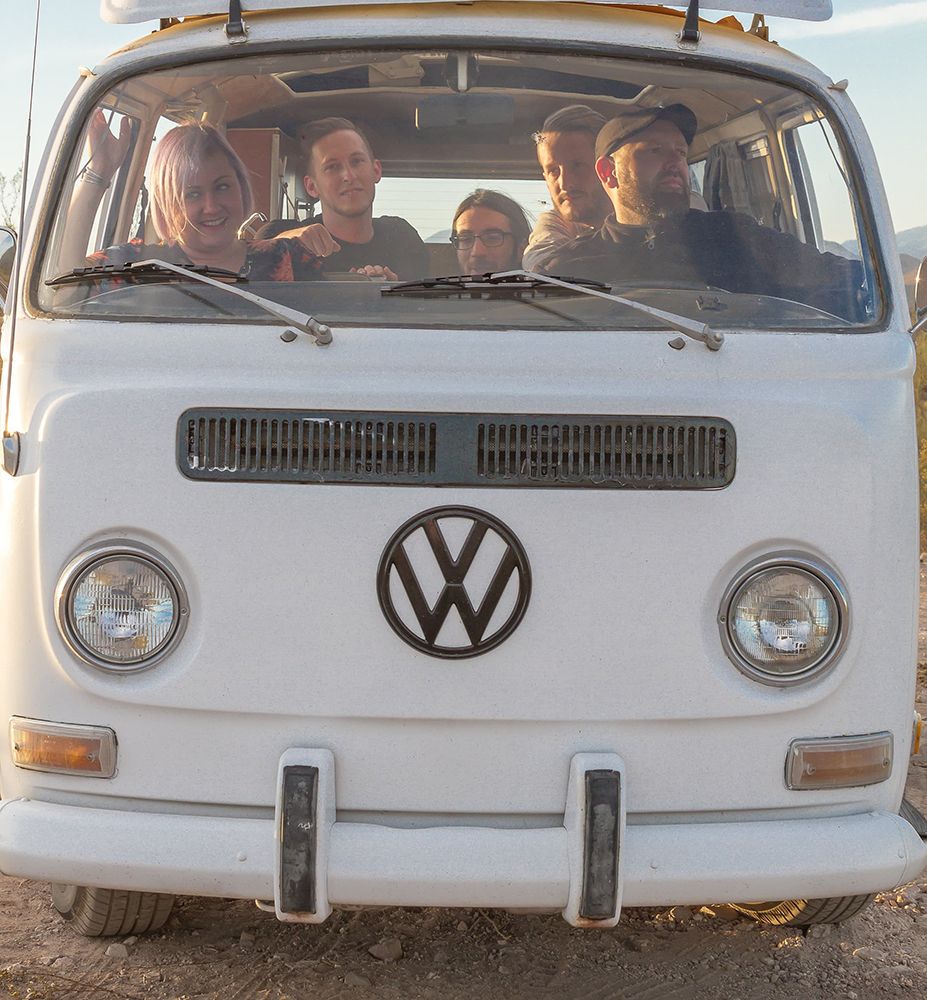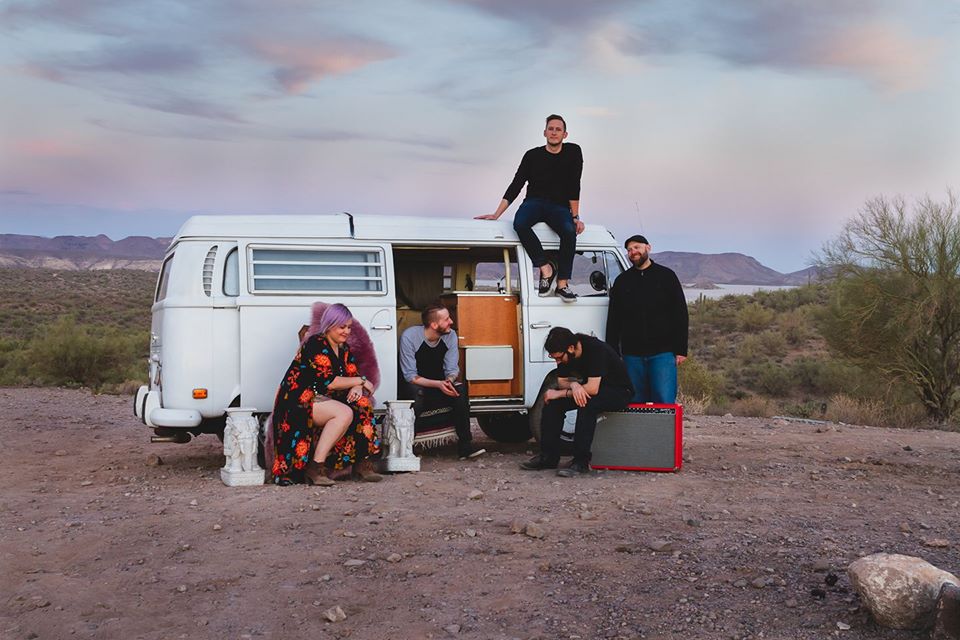 Damn the Weather is a Phoenix-based Independent Rock quintet that is, admittedly, stylistically schizophrenic. Their tones and approaches shift like tectonic plates, creating an ever-evolving sound that is nearly impossible to pigeon-hole. Featuring a pair of songwriters with distinct styles and voices, the band is an auditory amalgam and visual mélange, making them an attraction in every sense of the word.
Forming in 2014, the band began as a fusion of several projects. At the time, principle songwriters Jon Watkins and Shane Hunt were collaborating on a collection of songs they would later release under the name The Hollow. At the same time, Shane was a member of The Skeleton Keys with Samantha Camacho (violin) and fellow Phoenix songwriter Sydney Sprague – while Jon served as a guitarist and vocalist in the band A Dead Belief with current Damn drummer Asher Brooks-Hlodnicki. Sam was eventually enfolded into The Hollow, with the trio rechristening themselves Damn the Weather (deriving the name from a cocktail in a World-War II era mixology guide Sam inherited from her grandfather). Asher was later incorporated following the departure of Damn's original drummer in 2015, and bassist Logan Trim joined the band in 2017 following the departure of founding bandmate Mike War.
The band has released 6 singles and a 3-song EP to date, beginning with 2015's "Speechless," and culminating in the recently released singles, "Talk to Me," "Saturnine," and "Vertigo" in 2019.
In 2017, the band embarked on an ambitious project; to release a concept record that would allow the group to explore an array of influences, styles, and soundscapes, all while staying true to their songwriting sensibilities and attempting to craft a compelling tale. The subsequent concept, entitled Saturnalia, has evolved dramatically since its inception. After writing nearly 30 songs for the concept over the span of the year, the first installment in the saga, Preludes and Nocturnes, was released in January of 2018. The band has subsequently released several digital singles from the concept, and aims to compile the first volume of the saga in a physical release by the end of 2020.
Why release a concept album in a music market tailored to sell singles? According to Shane, it was a matter of taking a different approach to the process of songwriting.
"It's easy to fall into a routine when writing music," Shane told us. "You draw from your own experiences, and do what you can to play to your strengths and skills as a musician. With Saturnalia, we wanted to approach songwriting from new angles. We are being deliberately eclectic with the style and elements of our compositions. We play with genre and structure while trying to present an emotional and compositional palate we may not have otherwise explored. Our influences, styles and sounds on these songs range from flamenco to waltzes, funk to punk, indie rock to atmospheric prog. We don't just stay in one sandbox."
As to why a concept album suits this approach, Shane further detailed, "I describe the concept as our attempt at creating a 'modern-day romance.' There is a major emphasis on celebrity, media – social and otherwise-, tragedy, voyeurism, hedonism, and the like in American culture. It's impossible to stage an affair of the heart these days without appropriately incorporating these elements. If you were writing Romeo and Juliet in the present day, the Montagues & the Capulets could be the Kardashians and the Trumps. That puts a slightly different complexion on the matter of two people falling in love with one another, especially if celebrity is involved. We wanted to write a collection of songs or stories that played with those ideas while also falling in-line with the trappings of traditional concept albums. Pink Floyd's struggles with fame, relevancy, addiction, and sanity from Dark Side of the Moon or The Wall, or the themes of preordination, romance, misdeeds, and redemption in the works of The Dear Hunter. These were motifs we hope to echo with our compositions. There's some hyperbole involved in our story – like having a millionaire film-star fall in love with an assassin; but subsequently you are able to speak to relevant issues (fidelity, codependency, addiction, celebrity, iconography, depravity, violations of privacy, our vindictive litigious culture, entitlement, gun control, familial fracturing, politics, etc.) without being didactic or preachy. So we are striving to be entertaining and substantive both with the nature of the music itself, and the type of story we're telling with it."